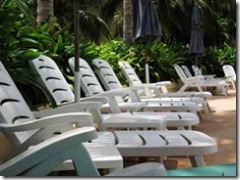 I am leaving tomorrow for some well deserved vacation, so don't expect any blog updates while I am away. If I can get Internet access, I may post something, but I doubt it.
Of course, I don't want to leave you with nothing to read while I'm away. So, here is your reading assignment:
Art posted an interview with me about my decision to move to Port 16 (abandoning The Bit Bucket)
While you are over there, you should read some of his other posts, like how to hide the fact that you are reading Harry Potter, Run Windows Apps on Linux, or learn some new facts about German bathroom habits. Art also posts a lot about Portable Apps.
If you run out of things to read there at Incoherent Mumbling, here are some other blogs you can check out:
Ghosts in the Machine – Sharon has lots of good stuff here. Digital identity, privacy, net neutrality, and other topics.
Homespun Honolulu – You guessed it, a Hawaii blog. Even though I don't live there any more, I still miss it sometimes.
Necessary Skills – Peter Haslam writes some really well thought out, deep posts here. Absolutely a blog worth reading.
Thought Sparks – Various topics, great posts.
When I return, there will be a quiz.