September 2, 2007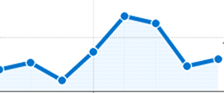 Well, it's been a big month for Port 16, I didn't bother writing a summary post for July, since I didn't really do much, and it was the blog's first half month in existence, most of which I spent on vacation.
So what happened in August?
This month was mostly about layout, and getting some sort of a posting schedule going. This month I made 36 posts, bringing the grand total up to 41 posts. I found a theme that I really like, and modified it so that it is even more to my liking.
Here are a few stats about my visitors, laugh if you want:
Visitors: 152 Absolute Unique Visitors. Each one of them cherished.
Page Views: 1,370 page views (I'm sure most of that was me).
New Visits: 34.06% were new visitors
Bounce Rate: 43.72%
All in all, I'm pretty darn happy with the turnout this month. I really have to thank Phil at Thought Sparks, and Art at Incoherent Mumbling, for all of their comments. Really, all of you that commented, thank you!
I had my last blog for several years, but I never really connected with the community much, and I really think that I'm getting to meet some great people now. It really makes blogging so much more fun.
Now, for the juiciest posts, here are the top 5 for this month:
2. Problems Uploading Images to WordPress using Windows Live Writer Beta?
3. 6 Reasons Not to Stop Drinking Coffee
4. A Study in Heat, Time and Smoke: Pulled Pork
5. Easy way to Schedule a future post in WordPress
Ok, so what's in store next month? Well, I started Port 16 so that I could try and help people, of all technical backgrounds, exploit technology. I mean, what good is it if you don't understand why you would want it, and how to use it. So next month I would like to start getting more into that theme.
This month I had a bunch of posts, and although I'm glad that I was able to keep cranking them out, 3 of the top 5 had nothing to do with my mission.
One more time, I want to thank everyone who commented, and all of my readers. Please feel free to let me know what you liked or disliked. I welcome feedback, even if it is negative.
Stay tuned.
Also on Port 16: