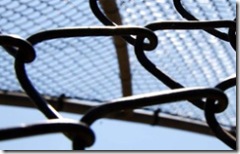 Ok, maybe this is a cheesy way to get a post out, but I have a awful lot of links that I wanted to mention, and I spent much of the weekend hip deep in my Jeep, replacing a valve cover gasket. Doesn't sound too hard, except that a small portion of the engine in under the firewall (not a computer security device). But enough of my woes…
– Phil over at Thought Sparks, started posting a CSS tutorial. This week he posted Part 1 – The Body Tag and Part 2 – Horizontal Tabs. Really good stuff.
– I also joined Pownce this week, and I really like it. Combination mini-blog meets chat meets email. Really a cool idea. If you are on Pownce, let me know.
– Yesterday, I found Secure Cyber. What a great site! The author commented on my post about chasing Microsoft Certifications, it turns out he has been in the IT field just a wee bit longer than me, and he has really written some great stuff. Great resource for IT pros.
– I found out about Free Remote Access with Log Me In. They give away the free remote access so that you'll want to buy their other products. Always a winning deal for me. I saw it in Redmond Mag.
– I spent a little bit of time looking for an online To Do list service, I settled on "Remember the Milk", but don't take my word for it, check out these "25 to do lists to stay productive". Going through the list should prove an excellent way of dodging work. 🙂
– If you worked your way through that list of to do lists, here is another one over at Tech Crunch. Use it as an excuse to procrastinate some more.
– All right, this is the last "to do" list for this post. If you have your own server or hosting account, you can always install "Task Freak". It's open source. It's GTD.
– Redmond Magazine released their 12th Annual IT Salary Survey (registration required for the full report), and it looks like the IT sector is still doing well. It got me a little curious about some Microsoft certifications though.
I run across a whole bunch of good stuff that I just don't have to time to do full fledged posts about, but I still want to share it, so I think I'll start making these roundups a regular feature.