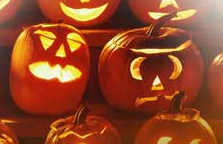 Happy Halloween Everyone!
There is a list floating around called "You know your a Coloradoen if", and one of the items on it is "You plan your kids Halloween costumes around their snow suits". This year isn't going to be too bad, it looks like it is going to be about 40 degrees tonight when the kids are out trick or treating.
The Weather Channel's Holiday Helper Site will let you find out the same information for your area. Although not the most intuitive tool in the world, it isn't too bad.
(Note: You can get the same information on the Weather Channel, with a few more clicks, if you find your local forecast, and keep choosing the detailed forecast. Eventually you will get the hour by hour forecast.)
Step 1: Navigate to this URL (Open in New Window)
Step 2: Enter Your Zip Code, and Click "Go".
Step 3: Scroll down to the "Holiday Cast" section. You can choose either the day that you want, or the hour that you think the trick or treaters will be out. Once you have made your choice, click "Play".
If you want to look at the day's forecast, or a different hour, you have to press the back button.
Have a safe and Happy Halloween!