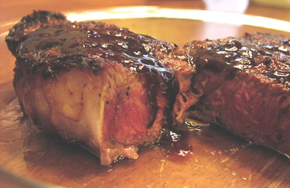 The purpose of Command of the Grill week is to promote the book "Command of the Grill", whose proceeds benefit charities that support Marines. I'm am not making any money off of this, and anything made from traffic during the month of November will be donated to Toys for Tots. You can read more here, or follow this link to purchase your own copy. This is a really easy way to support our troops. Semper Fi!
This was the first recipe I did for my Command of the Grill Week, and let me tell you, it absolutely blew me away. No kidding.
This recipe was the winner at the competition held at Marine Corps Base Camp Lejeune. Captain Eric "Disco" Dominijanni is the Devil Dog responsible for this recipe, and he should be proud.
One thing that you should love about this recipe, is that it is available for free on the winning recipes page (Scroll to the bottom of the page when you get there) at Command of the Grill.
The Recipe itself uses New York Strip Steaks, and has a sauce which starts out as a marinade, then a basting sauce, and finally a dipping sauce. You can see the dipping sauce in the photo, I poured it directly onto the steak for the photo. I didn't regret that one bit.
The sauce has Cola, Soy Sauce, Teriyaki Sauce, some other spices, and most surprising, a Habanero pepper. If you aren't familiar with Habaneros, they are extremely spicy, and you should use great care to touch it as little as possible.
The steaks marinade for 4 to 6 hours, and then are removed from the marinade to come to room temperature. The Marinade is then boiled for 10 seconds or so, then split in half. Half of the marinade is used to baste the steaks while they are on the grill.
The second half of the marinade gets boiled down until it is the consistency of a dipping sauce. This sauce, by itself, is worth the purchase price of the book. I'm not joking, the wife and I are planning on making large batches of it, just for the dipping sauce.
I mentioned earlier, this recipe blew me away. It wasn't too spicy, and the first taste of it, I actually said "Oh my god that's good!" out loud. Really, I'm not kidding.
Try this recipe.
Kellypea did a version of this recipe with top sirloin, and it sounds like it turned out terrific! Check it out.