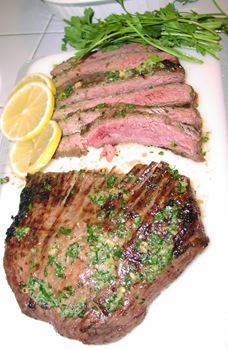 The purpose of Command of the Grill week is to promote the book "Command of the Grill", whose proceeds benefit charities that support Marines. I'm not making any money off of this, and anything made from traffic during the month of November will be donated to Toys for Tots. You can read more here, or follow this link to purchase your own copy. This is a really easy way to support our troops. Semper Fi!
This particular recipe is one of the "Celebrity Recipes" that gets featured for each competition. Dan Lauria, who has been in a long list of shows and movies, but I still remember best as the dad from The Wonder Years, submitted this recipe.
We usually don't eat flank or skirt steak by itself, instead the family favorite is to use it in Fajitas. There are few things that smell as aromatic on the grill as the Anaheim peppers roasting in preparation to be peeled.
With this particular recipe, the steak marinades for 2 to 4 hours in a mix of fresh parsley, lemon juice, olive oil, and some other ingredients.
I've never thought that parsley had a taste of it's own, because I've only tasted dried parsley from a spice jar. Fresh parsley is a totally different animal though, and has a really fresh flavor.
After leaving the marinade, the steak gets dropped in some searing heat on the grill for about 10 minutes, turning once, and then gets pulled off.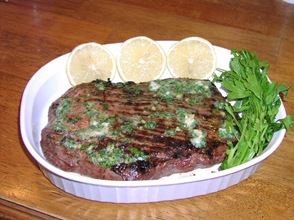 The recipe also calls for some Lemon Garlic butter which is made by mixing softened butter with chopped fresh parsley, lemon zest, and other ingredients. The butter gets smeared on the still hot steak while you let it stand.
If you haven't cooked flank or skirt steak before, it's important to cut the steak against the grain, or you'll be chewing it forever. In the picture you can make out the direction of the grain in the meat, it is pretty easily seen on the surface.
Now, I don't want you to get the wrong idea, this recipe was pretty darn tasty, it just didn't knock my socks off like all the other recipes have so far. The butter, although good, just didn't have any kick or seasoning to it, and that's what the steak really needed.