March 9, 2008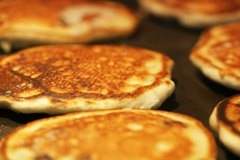 I've had a little change in philosophy lately when it comes to pownce.
A long time ago, possibly even months, I decided that I'm kind of tired of getting all of these messages about things I don't care about. I mean, come on, I don't care about what you had for breakfast.
Ok, let's be a little more specific, I don't care what you have for breakfast on a daily basis, unless it's something really cool or strange. I mean really, if you post and say "strangest thing happened to me today, I had an iguana breakfast burrito", then I would be pretty interested.
Not only in how it tasted, but where exactly one might obtain a iguana breakfast burrito.
Man. I sure love breakfast burritos.
I better stay focused. What was I talking about? Oh yea, that's right.
Assuming that you didn't have an especially strange or interesting breakfast, I probably don't care.
I think it is safe to assume that I especially don't want to know what you had for breakfast, after you posted "good morning" to all of your friends. So, after suffering from information apathy, I turned off my message notifications.
The other day, a friend sent me a private message. Luckily, I still had the notifications turned on for personal messages. The thought struck me that I almost missed that, and right now, my friends could be posting something really cool, and I would be missing it.
So I turned on the email notifications again, but this time I removed a bunch of people that were creating a whole lot of noise. This has really made things much more manageable.
I don't mind people who post frequently, but it has to be worth reading. I'll have to keep that in mind when I start posting more frequently. It's not quantity, but quality.
By the Way, if the phrase "Information Apathy" hasn't been used before, I hereby coin it.
Image by Chance Agrella
Also on Port 16: