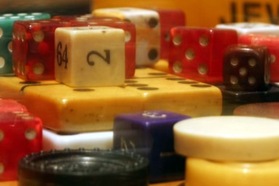 Seems like this is another curve that I'm not quite hitting. According to a Post on Extreme Tech, Gamers are spending about $765 a year on games.
The survey was conducted by GameStrata, and polled gamers from ages 18 through 48.
I don't know about you, but my yearly game spending is probably somewhere around $100, at most. I think the last game I bought was the Civ 4, and that was way back in January. Before that was the Orange Box, so it looks like I'm buying about 1 $40 game a year, but I'll throw a couple of $20 PlayStation games in there too, just to round it out.
The kids have been hooked on Lego Indiana Jones, which is terrific because it gives me a quick and easy punishment when they misbehave. As a matter of fact, today ended a 3 day, parent induced boycott of the PlayStation.
Photo by Chance Agrella