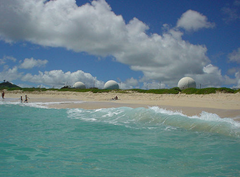 I was feeling a little nostalgic today, so I started looking around for some pictures of some of my favorite places. I ran across this picture, which is of Pyramid Rock beach in Kaneohe, it's on the Marine Corps base, and you can see a couple of the radar balls in the back ground.
I used to love to go hit this beach for boogie boarding. Lots of times I would get a couple of hours in during the wee hours of the morning before I had to go to work. My friend Bob would always try to get me to laugh right before the waves crashed down on me, so I wouldn't have any air when it did. I can still feel the salt burning my sinuses.

Of course, this shot is taken from the water, and Pyramid Rock is directly behind the photographer. Thanks to HawaiianBeach for making the photo available on Flickr.