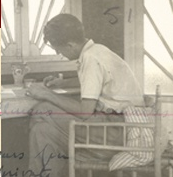 I'm sure that all of you are familiar with George Orwell, and most of you have probably read his writing. I know that I read "Animal Farm" and "1984" in school, then again later.
Although the classics stick with me, I hadn't really explored any of his other writings, but looking through the bibliography in the link above, I already see many things that I would like to read.
Britain's "The Orwell Prize", an award for political writing, is publishing George Orwell's diaries, in blog format. The Website is The Orwell Diaries.
Besides the fact that it's a look into the life of a great writer, one interesting aspect is that the diaries start on August 9th, 1938, and the blog was started on August 9th, 2008, exactly 70 years after the entries were written.
If you're interested in reading more about the diaries, read the blog's about page. I know I'm interested in reading the blog, and seeing what Orwell's thoughts were. I hope you'll join me.