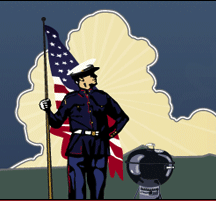 You may remember that last year I did a week of recipes to promote "Command of the Grill". Well I'm getting ready to do it again this year, and I would like to get some others involved too. Last year, the wonderful Kellypea did a delicious version of "Disco's Hot and Tangy New York Strip Steaks" on her blog, Sass and Veracity.
All this involves on your part is picking a recipe, cooking it, taking a few pictures. Of course, you get to eat the tasty beef as well.
All of the proceeds to the book go to charity, and these are charities which help our troops.
The book itself is a whopping $10, and I don't get a penny of it. It makes a great gift, and with Christmas coming up, it makes a wonderful present. I bet you know someone who is either a Marine, Loves grilling, or even both.
There are two recipes on the internet already, and I can email others to willing participants. If you want to help, comment here, or email me at Mike AT port16 DOT com. I'm starting on November 4th, and finishing on November 10th, the birthday of the United States Marine Corps.
Support your troops, cook a steak.
Semper Fi!