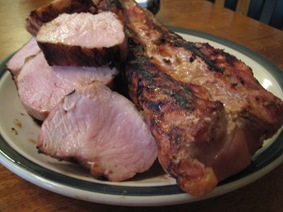 The purpose of Command of the Grill week is to promote the book "Command of the Grill", whose proceeds benefit charities that support Marines. I am not making any money off of this. You can read more here, or follow this link to purchase your own copy. This is a really easy way to support our troops. Semper Fi!
When I first cooked Disco's Hot and Tangy New York Strips, the recipe just blew my mind. I loved it so much, that I figured that this sauce would be oh so good on other meats besides New York Strip Steaks.
If you're new to Command of the Grill Week, Disco's Hot and Tangy Strip Steaks is the second one of the free recipes, so try it out and let me know what you think. I decided I would see what it would taste like on some pork.
The sauce, not shown, consists of Cola (Pepsi in my case), Soy Sauce, Teriyaki Sauce, Orange Zest, and 1 Habanero Chili Pepper, and some other ingredients.
The result is a sweet, salty, spicy sauce that is delicious. Now, if you aren't familiar with the Habanero Chili, it is very spicy. No really, it's spicy. If you told me you wore gloves to work with it, I would consider you prudent.
But just like any pepper, if you remove the seeds and the white "ribs" before dicing the pepper, you'll take the majority of the heat away from it. I usually save these in case I want to add them later to spice things up.
Now In the off season, I've actually used the Disco's recipe on Chuck Roasts, and have been pretty pleased with the result. I figured, why not try it on some pork?
So, pictured above is two Pork Loins, that I grilled directly, after soaking in Disco's Marinade. Although a little on the salty side, they were still delicious.
This was a great post to illustrate two very important points that I want the reader to keep in mind:
1. I am not a perfect grill jockey. I did have to put the pork loin back on the grill and cook it a little longer. Although pink is OK with pork, the meat should still hit a internal temperature of 160 Degrees Farenheight. Unfortunatly, my thermometer is broken, and I need to find another one. There's no shame in having to go back to the grill. When in doubt, cook it a little longer.
2. I am not a expert photographer. The pictures I took just didn't come out like I wanted them to. The one I used above is pretty fuzzy when you look at the full sized version. Looks pretty good smaller though.
I do plan on trying his recipe on some chicken, I'm willing to bet it's very tasty.