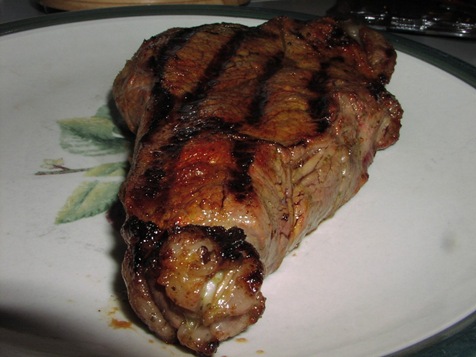 The purpose of Command of the Grill week is to promote the book "Command of the Grill", whose proceeds benefit charities that support Marines. I'm not making any money off of this. You can read more here, or follow this link to purchase your own copy. This is a really easy way to support our troops. Semper Fi!
I'll have to say that I've been introduced to some really great stuff making these recipes this year. For today's steak, Isaac's inspiration, I learned about Adobo and Sezon seasoning. Mmmm! That stuff is going to find it's way onto a whole lot of my meats in the future.
This recipe took second place at the MCB Quantico competition, and was created by Sergeant Isaac Gonzalez.
One interesting thing about this steak is that it uses a paste, rather than a rub or marinade. Several ingredients, whiskey, Teriyaki, orange juice, and lime juice, just to name a few, are combined to create a paste. The paste is then smeared over the steak, both sides, and sits like that, in the fridge, for 4 – 6 hours.
I'm a big fan of stuff that smells good while you're grilling it, and I've been known to cook some corn on the cob, in the husk, just for the aroma. This steak smelled terrific when it was being grilled. Not only did it smell good, but it tasted delicious.
This one is going to have to go onto my favorites list for sure.