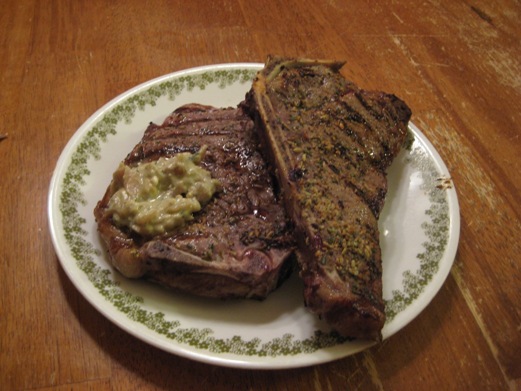 The purpose of Command of the Grill week is to promote the book "Command of the Grill", whose proceeds benefit charities that support Marines. I'm not making any money off of this. You can read more here, or follow this link to purchase your own copy. This is a really easy way to support our troops. Semper Fi!
The original recipe calls for Filet Mignon, but being a man on a budget, I made them with New York Strip. To come a little closer, I should have made this with either Rib Eye, just because it's so tender, or with a T-Bone, since it has a piece of filet mignon on it.
This recipe is Ken Norton's. Ken Norton fought Mohamad Ali for the heavyweight title in 1973, and won. Ken was introduced to boxing while serving in the Marine Corps, and is in the Marine Corps sports hall of fame.
This steak has a rub of rosemary, salt, black pepper, orange zest and fennel seed. The sauce has shallots, white wine, orange juice, Gorgonzola cheese, and some other spices.
Like all of the others, I really liked this steak. I think it would have been better if I had used the Filet Mignon, like it called for, just because there are more pores and cracks to absorb the herb run, but it was still pretty tasty. If you haven't had a shallot before, it's like a cross between a clove of garlic, and an onion. Many people who don't like either garlic and/or onion like shallots.
The cheese in the sauce really adds a stiff accent to the meat, without overpowering it.
As a side note, I cooked these steaks about one every weekend. Well, last weekend, I realized that I was going to be short 1 steak, so I had to cook one on Saturday, and one on Sunday, right? Wrong.
We had some plans for that Saturday, and ended up not getting home until very late. So I ended up cooking both the T-Bone with Bistro Dipping Sauce, and this steak on the same night. So, long story short, I had 2 steaks for dinner. Yes folks, that's an example of the lengths I am willing to go, and the sacrifices that I'm willing to make for you. Brings a tear to your eye.