February 9, 2010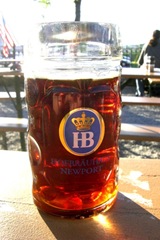 I ran across a couple of articles today that were pretty interesting. According to this Forbes Article, drinking 1 – 2 beers daily can:
1. Cut Men's risk of dying from a heart attack by 30 – 35%.
2. Raise your HDL (good cholesterol).
3. Make your blood cells less likely to clog an artery.
4. Help protect against type 2 diabetes.
I also ran across this article in wired citing a study that linked beer consumption with higher bone mineral density. Evidently Beer has a good deal of bio-available Silicon, which our body needs.
I've also seen research, but am too lazy to go look it up now, that shows that an active chemical in hops may be able to help stop prostate and breast cancer. Those studies are still in the early stages though.
Go Beer!
Also on Port 16: