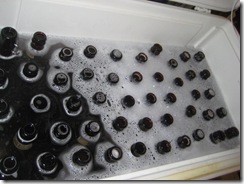 I managed to squeeze some more brewing in this last weekend, but it turned out to be a bit of a disaster though. Well, kind of.
A seasoned brewer will see pretty quickly that these are all rookie mistakes, so I'm kind of ashamed to admit them, but hey, you live and you learn. In the interest of furthering the knowledge of others, to help you, I'm going to commit these mistakes to the blog. That's right, I'll take one for the team.
For this brew day, I had kind of shuffled back and forth between what to brew. 10 gallons of this, or 10 gallons of that, 5 gallons of this, etc. I finally decided I would make it a regular brew day, and went with two recipes at 5 gallons each. The two recipes I planned on brewing were for the Marine Corps birthday on Nov 10th, and I wanted to get a head start. First up was "Crimson Corps Bulldog Ale", followed by "Semper-FI(PA)!" Not too ambitions right? I mean, I've brewed up to 15 gallons at a time before.
Part 1: The Brew store debacle OR Why you shouldn't be in a rush
I get to the brew store, and I realize that I printed off the stuff I needed for both recipes on a single piece of paper. This isn't good. I usually mill my grain together so that I only have one bag to dump into the mash tun. This time, I had 2 different grain bills, plus I was planning on roasting some of the barley, which should have been kept separate. So I called my wife, and asked her to list off the ingredients for the recipes. She was nice enough to help me out.
Only problem is, I messed them up on the list. Somehow I ended up with a bag of 20L when I should have had a bag of 120L, or at least I wrote 20L on it. Was it 20L, or was it 120L? If it is 20L, then where did the 120L go? Who knows? I sure didn't.
Crimson Corps Bulldog Ale:
Started out with this Irish red recipe. When I was entering it into Brewsmith, I noticed that it was going to be almost black. Not exactly what I expected. So I adjusted the grain a little bit to make it more of a Red.
Then, after I got back from the brew store, I started calculating the water volumes and temperatures I would need for the mash and sparge. That's when I started realizing something was wrong. I had an awful lot of grain for a 5 gallon recipe. Want to guess why? It's simple really, it was a 10 gallon recipe.
When I was transcribing it into Brew Smith, I mistakenly entered 5 gallons for the batch size, when in fact it was a 10 gallon recipe. That also explains why my color was off.
I'm fermented 5 gallons of this with the American Ale II yeast that it called for, and 5 gallons on the American Ale (Wyeast 1056) yeast cake from my Sweet Mutt batch.
Semper-FI(PA)!
This was another minor debacle. I think I got all the correct stuff, of course there's still the matter of the missing 120L, but it too had a ton of liquid. I didn't see that it was a no sparge or super low efficiency on the recipe, so I just mashed and sparged like I normally would.
I ended up boiling it forever to get it down to 6 gallons, which is about where I start my 60 minutes. It was pretty think, and I think it's going to end up being something like 8.5% alcohol.
I put this wort on top of the Wyeast 1056 American Ale yeast cake from one of the Sweet Mutt batches.
As you can see, I had 2 Carboys of Sweet Mutt Honey Brown Ale that I needed to bottle. So all in all, I was brewing and bottling for about 13 hours that day. It was a productive day, but I had really hoped to go hiking or something else too, so it was kind of a bummer to use the whole day up brewing.
This was the second brew day in a row, and the second brew day in a 30 day window, where I brewed 15 Gallons at a time. I'm hoping to brew some lambics next, which is going to tie up my fermentation equipment for a little while, so I don't want to run out of tasty beer to drink.