Ok, now I'm sure that some people aren't going to be real happy about me saying this. But I have suffered in silence for long enough, and I think it's time I get this off my chest.
iTunes is a bloated, sluggish, buggy, and ugly piece of programming. First off, Paul Thurrott gave the best description of iTunes that I've heard to date. It's a spread sheet with music in it.
I have to apologize to all of the people who love Apple's award winning design skills, but iTunes is ugly. I was surprised to download Safari recently, and realize that it looks exactly like iTunes. Does it look like this on MAC OS? What's up with that?
The picture above illustrates why I was inspired to write this post. Why in the world does iTunes need 60 % of my CPU? I'm playing a itty bitty video, 320 x 240, about 6 minutes long.
I'm not running a Pentium II 450 Mghz, I have a 4Ghz P4. It shouldn't need that much CPU time even if I was encoding the video.
I didn't mention yet that iTunes is using about 100M of memory. Do you think that's reasonable?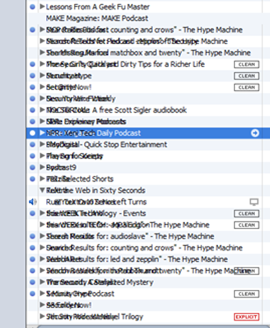 The picture to the left is just one example of the scrambled display that I get from time to time. I don't mind that so much as I do the fact that iTunes is so terribly slow, especially over remote desktop.
Even when logged in locally, it is still painfully slow to resize windows.
Redeeming Qualities
OK, there are two reasons why I use iTunes. One, it is the only application that works with my iPod. I love my iPod, which has an excellent design.
If Apple wants to use their near monopoly over the MP3 player industry to push a sub standard music player and their own music store, I guess I can't do anything about it.
The second reason is that iTunes supports podcasts. I wish Media player did this as well. I've heard that the Zune supports them now, but I haven't verified that, and I don't own a Zune anyway.
For now I'm stuck with the sluggish, bloated iTunes, and I don't have much choice about it. I've heard that there are some Open Source alternatives out there. I should check them out. I'm not concerned with losing my music, since I haven't bought one single song from the iTunes store.
Feel free to chime in if you have any experience with another iPod friendly app.