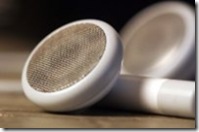 Last week I had Monday off, and I never got around to doing my 1 year ago post, so I'm really combining two weeks into this one. Work was so busy that I didn't even do my wallpaper post, or Friday links post. I'll try to make up for it this week.
A year ago I had just started getting into Podcast books, and told everyone about a great site to download Podcast Novels. I still make great use of this site. As a matter of fact, just today I posted about how to help a podcast novel author, and I first discovered her work over on PodioBooks.
Continuing on with the podcast novel theme, I also did a review of EarthCore and the author, Scott Sigler, was kind enough to drop by and leave a comment. Scott illustrated one facet of podcast authors, they love their audience, and really respond to their fans. Just the other day I received a response to an email I sent him.
On the technical side of things, there was a huge Skype outage, which was blamed on Windows Update rebooting a whole bunch of computers at the same time, and I told you how you can manually download definitions for Windows Defender.