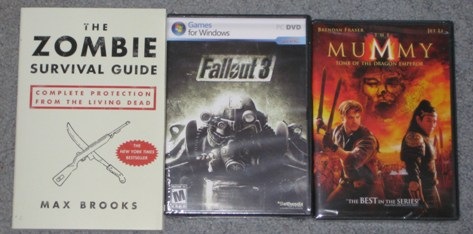 Does my family know me or what? Looking at the picture now, I'm thinking I should have arranged these in this order:
Mummy3 – Zombie Survival Guide – Fallout 3
This way I would have a Movie about the Undead, then a book about a Undead Apocalypse, and finally a game about life after a Nuclear Apocalypse.
So far, I'm already spending way too much time playing Fallout 3, and The Mummy 3 wasn't as good as the movies before it.
I hope all of you had a Merry Christmas and are looking forward to a new year!