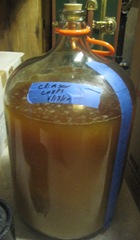 Here we are boys and girls, the recipe for the Crimson Corps Bulldog Ale that I botched on that fateful Brew Day.
As you can probably tell from the color, I don't think it's going to come our red, like it's supposed to be.
You can find the original recipe here on Homebrew Talk. What happened to me was that when I transcribed it into Beersmith, I entered 5 Gallons. Beer smith showed it coming out black, so I adjusted the grain bill to make it red.
After I bought all the grain, I realized that the recipe was for a 10G batch. Once I adjusted that, it looks like it'll come out yellow. I may brew the correct recipe at a later date, but for now, I've got 10 gallons of this. I'm sure it'll be tasty.
12# Maris Otter (I used Colorado Malting Company's 2 Row)
4# Vienna Malt
.75# Roasted Barley
.28 Crystal 120
2oz Fuggles at 60 Minutes
1oz Goldings at 15 Minutes
Wyeast 1272 American Ale Yeast (I used this for 5G and 1056 American Ale for 5G)
Mash at 150 Degrees F for 75 Minutes.
I'll let you know how it comes out.