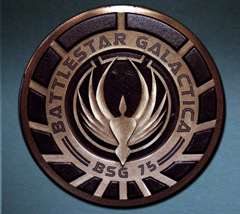 Unless of course, you're one of the final five.
If you listen to the Two Guys Tech podcast, then you know that one of the only shows I watch is BattleStar Galactica. Of course, I was surprised to see that we can look forward to a fourth and final season next year.
Having BattleStar on the brain, I decided to go with a BattleStar Wallpaper for this Week's installment of Wallpaper Tuesday.
Clicking on the image will bring open up the full sized image, but you can also find it on the Downloads Section at SciFi Channel's BattleStar Page. (It's on the bottom right).