Have you ever looked at your hard disk free space, and wondered where it all went? I mean, when I bought that 250G drive, I thought I would never need more space.
WindirStat is a easy way to graphically see where all of that free space went to. I use it all the time, even on my networks, to see what is using up all of my drive space.
Of course, it doesn't run instantly, after all, WinDirStat has to crawl through every directory on your hard drive. While directories are being updated, you are entertained with little packmen running back and forth next to the directories it is updating.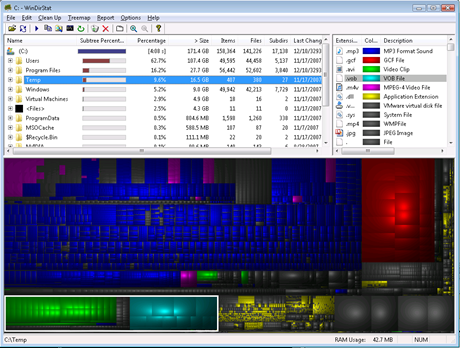 The visual representation of the files is neat, but I really look for the top half of the screen, pictured below.

Directories are listed with the largest on top, and you can continue to drill down into the subdirectories to find out what they are made up of.
This really is a great utility, and you can't beat the price, which is free.
You can download WinDirStat from the Downloads page, also check out the WinDirStat Web Site.

If you like this type of Tech post, you should check out Two Guys Tech. A friend and I are working on it, and we even have a terrific podcast.
We're always glad to answer questions, help people out, and help relate what we've learned. Get a new perspective on the tech topics and news that you're interested in, come visit Two Guys Tech.com.