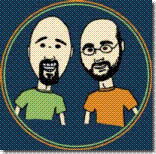 I had mentioned that Art and I were working on a project, and today's the day.
We launched Two Guys Tech today! The site is still a work in progress, Art has some really big plans for it. There isn't any content there yet, but the framework for great things is in place.
Also, in addition to the site, we are launching a podcast, and the first episode is available on Podshow. You can listen to the show at that link, and if you feel inclined to do so, there are also some handy dandy subscription buttons. This way you'll never miss an episode.
We would really like to make the site and the show something to help computer users of all levels, so feel free to give us any feedback you have, or ideas for what you would like to see.
I really appreciate everyone who has been a reader of this blog, and I hope you'll come over to Two Guys Tech and follow it as well.
And Kellypea, I haven't forgotten your question about Memory, I have a whole series of posts planned to answer it.