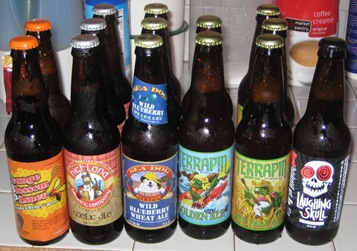 We recently went to Disney World, and visited some family in Georgia. The entire trip, I had my trusty 68 Quart Igloo cube in the back, filled with ice and beer. I started out by filling it with Colorado beers that weren't available in Georgia, those were given to relatives and friends. I then started filling it with beers that I haven't seen here in Colorado. Pictured above are the ones that survived the journey back.
Although I'm a fan of tasting new beers, and can tell you what I like and don't like, I don't feel qualified to give a really thorough review. All of the beer I had there was very tasty, and I liked all of them. Here's what I had to sample.
– Orange Blossom Pilsner – Brewed by "Orange Blossom Pilsner LLC". This was just plain delicious. I stopped in a large liquor store, and I could only find 2 beers from Florida, and the other one was Landshark which I've already had. Highly suggest this one.
– Sea Dog Blue Paw – Wild Blueberry Ale – Brewed by Sea Dog Brewing – Strangly enough, I found this beer brewed in Maine in the Florida liquor store that I mentioned above. If you don't like fruity beers then you may want to skip this one. As it turns out, I'm finding that I really enjoy a fruity beer, especially in hot weather.
The blueberry aroma and taste in Blue Paw is so strong that it's almost like a blueberry soda. The weather was extremely hot, and I found this beer to be very nice and refreshing. I think I'm going to have to find a clone recipe before next summer.
– Georgia Brown – Sweet Water Brewing, Atlanta Georgia – MMmmm Malty.
– Sweetwater 420 Extra Pale Ale – Sweet Water Brewing, Atlanta Georgia – Nice pale ale. I sampled this one at a restaurant.
– Sweetwater Blue – Sweet Water Brewing, Atlanta Georgia – Another Blueberry beer, not nearly as strong as Blue Paw. Very tasty.
– Golden Ale – Terrapin Beer CO, Athens Ga – Yummy
– Rye Pale Ale – Terrapin Beer CO, Athens Ga – Very nice pale ale. I had made a Rye beer not too long ago which was similar.
– Gaelic Ale – Highland Brewing Company, Asheville NC – Got a good laugh doing my Scottish impression saying that "All the other Gaelic Ales are crap!". This was delicious, although I was a little confused that it's described as a "amber American ale", yet is named Gaelic Ale.
– Laughing Skull – Red Brick Brewing Company, Atlanta Ga – A very tasty and respectable Amber Ale.
Unfortunately, I took too long to write this post, and I didn't take any notes about the beers I had. So my descriptions are lacking. I'll have to remember that next time for sure.
After this trip, I realize how lucky I am to have the beer selection that I have here in Colorado. Although things are getting better in the south, selections from local brewers, as well as microbrew selection in general, is still pretty limited.
Remember folks, support your local brewers!