I was able to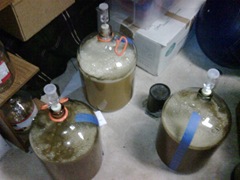 keep on schedule by sneaking in a brew day just before May said Adios. I did a double brew day again, which is still just working out terrifically. Batch #1 was a 5.5G batch of a Light Rye beer, and batch #2 was a 10G batch of my "Sweet Mutt Honey Brown".
One thing that helped my out immensely was my brand new immersion chiller. It cooled the wort down to pitching temperatures in no time flat. I'm running the water off into a 50G drum I have, and after I get a water pump set up, I'm going to be pumping that water onto my lawn through my sprinkler.
My Vienna Lager is really tasty now. I've been having some carbonation problems with it, but I haven't minded sampling it repeatedly 🙂
I tried my Hefeweizen for the first time the other day, and it's still pretty young. Tastes more like a wit bier right now, but I'm sure it'll come around.
In June I'm scheduled to do my two Marine Corps Birthday brews, and I'm hoping to get those done pretty quickly so that I can maybe get a couple of unscheduled brews in as well. Although I have a decent quantity of beer laying around the house, there's still very little that's ready to drink. I'm hoping to rectify that 🙂
Until next time, keep brewing!